CAHS Distinguished Alumni
The University of Cincinnati College of Allied Health Sciences presents Distinguished Alumni awards on behalf of its four departments during annual Presentation of Research and Innovation and Scholarly Endeavors each spring.
2022 CAHS Distinguished Alumni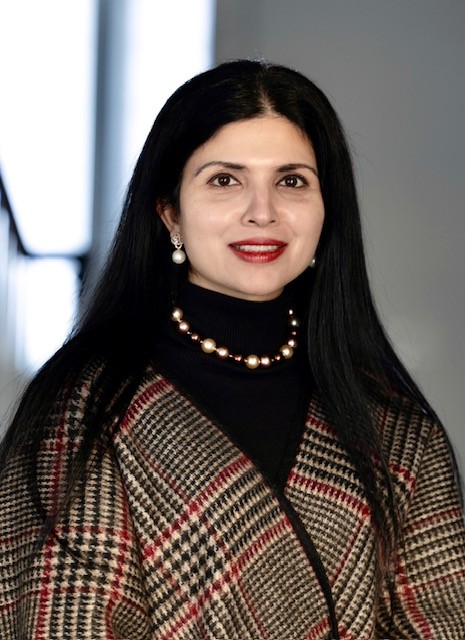 After starting her career as a concert ballet and contemporary dancer, Antonia S. Caldwell turned to higher education to pursue her passion for the sciences. She first gained certifications in Pilates and Personal Training as a means of gaining practical experience for an aspired career in a musculoskeletal field. After starting at Cincinnati State Technical and Community College, she matriculated into the UC College of Allied Health Sciences, which is where her academic success inspired a natural progression into practicing medicine. Dr. Caldwell attended the UC College of Medicine as a Gaston Scholar and was named Cincinnati Medical Association Scholar after her first year. She remained active with CAHS at this time as a mentor with the Connections Mentoring Program and sat on the UC College of Medicine Committee on Admissions as well as the Diversity Council. Her success continued as a resident in Diagnostic Radiology at the University of Louisville, being elected twice for Chief Resident by the faculty and her peers and winning the award for Outstanding Senior Resident in her final year. Dr. Caldwell is currently obtaining sub-specialty training as a Fellow in Musculoskeletal Radiology at the University of Michigan. Upon completion this June, she is excited to return home to UC as Assistant Professor in the Department of Radiology.
John Greer Clark, Professor Emeritus, owned a private practice with his wife and audiology partner for 25 years before joining the CAHS Communication Sciences Department faculty where he served as the Audiology Program Director before retirement. Certified in both audiology and speech-language pathology, he is an honors recipient and Fellow of the American Speech-Language-Hearing Association, and recipient of the Distinguished Achievement Award from the American Academy of Audiology. Dr. Clark is a past president of the Academy of Rehabilitative Audiology, a former chair of the American Board of Audiology, and a frequent national and international presenter on audiologic counseling and adult hearing rehabilitation. He has authored a wide variety of peer-reviewed and invited journal articles, three consumer guides, 20 book chapters, and eight textbooks including two internationally acclaimed audiology texts, Introduction to Audiology currently in its 13th edition, and Counseling-Infused Audiologic Care in its third edition. His current writings and presentations focus primarily on the need for clinicians' heightened vigilance for patient well-being within a broadened life context
Kersha Deibel is the President & CEO of Planned Parenthood Southwest Ohio Region. Prior to joining the southwest Ohio team, Kersha spent over eight years leading and organizing with Planned Parenthood Federation of America and Planned Parenthood Action Fund in Washington, D.C. There she led the team to run winning electoral campaigns that centered on the lived experience of BIPOC communities, LGBTQIA+ individuals, young people and patient advocates at the local, state, and federal levels. Deibel earned her Bachelor of Social Work from UC, and during her time here became a patient for the first time in the Planned Parenthood health center where she now works to provide, protect and expand care for the 20,000 patients that walk through the doors. She also has a Master of Public Health and Master of Social Work from Washington University in St. Louis, Mo., and currently serves on the Board of Directors for the National Abortion Federation and the Planned Parenthood Action Fund, and in the past served as the President of the D.C. Abortion Fund. 
Rosalyn Milenkiewicz is a graduate of the UC Masters of Health Informatics Program and is a practicing Physician with Board Certifications in Family Practice, Addiction Medicine and Clinical Informatics. She is a leader in promoting healthcare access through telehealth solutions, serving U.S. Veterans, and supporting Women in Leadership in Healthcare. She is the current Chief Health Informatics Officer and Telehealth Director for the Veterans Healthcare System in Loma Linda, Calif., and formerly served as the Physician Director of Performance Improvement for Kaiser Permanente in San Bernardino. She stays connected to the College of Allied Health Sciences and offers her expertise as an adjunct professor, teaching a course in Performance Improvement.
Read about the 2021 College of Allied Health Sciences Distinguished Alumni below.
Tonya L. Bates, RHIA, '11 – Department of Clinical and Health Information Sciences
Tonya Bates is a pioneering Healthcare Management professional with a vision to help organizations prepare for a future of value-based care and an enhanced focus on quality.  For 21 years, Tonya's career has improved operational and financial performance in a variety of healthcare settings through executive management and academic capacities on local and national levels. Currently the Compliance Manager for Enjoin, her expertise has benefitted several organizations with her oversight of revenue cycle operations, Health Information Management departments, electronic health record applications and migrations, documentation integrity, healthcare compliance, quality metrics, performance improvement, Release of Information, and health Information Management Technology education. She graduated from the Health Information Management program in UC's College of Allied Health Sciences in 2011, then became board certified as a Registered Health Information Administrator. She also holds degrees from Case Western Reserve University and Cuyahoga Community College. Tonya has served as President of the Northeast Ohio Health Information Management Association (NOHIMA) for 12 years and also serves on the Executive Board for her state association, the Ohio Health Information Management Association (OHIMA). 
Lauren E. Bland, PhD, '95 – Department of Communication Sciences and Disorders 
Eric Deaton has over 30 years of executive experience steering the strategic vision and direction of multimillion-dollar, multifacility healthcare operations. In particular, he has held various leadership roles at hospitals and organizations in Virginia beginning in 2007: President and CEO of Wythe County Community Hospital; President and CEO of Danville Regional Medical Center; and Market President of LifePoint South Central Virginia. In 2014, Eric was tapped to serve as Executive Vice President and Chief Operating Officer at Wellmont Health System in Tennessee to stabilize operations while the organization faced leadership changes and a pending merger. While there, he championed continuous improvement initiatives impacting such key areas as system quality, supply chain, operational excellence and nurse triage. Most recently Eric was recruited by Ballad Health to serve as Executive Vice President and Chief Operating Officer, driving the business strategy for this $1.9 billion healthcare organization formed from the merger of Wellmont Health System and Mountain States Health Alliance. Eric earned his Master's of Healthcare Administration from UC in 2019.
Robyn McHugh, PT, DPT, '04 – Department of Rehabilitation, Exercise and Nutrition Sciences
Robyn McHugh is a servant leader who provides unparalleled care for patients and families. After earning her master's degree in Physical Therapy from UC, she began her career at Cincinnati Children's Hospital Medical Center (CCHMC) in 2005 where she is currently a Physical Therapist in the Division of Occupational Therapy and Physical Therapy of the Sports Medicine Biodynamics Center. She is also the Liberty Campus Orthopedic and Sports Medicine Clinic Site Lead and team lead for the Career Development Program. Additionally, Dr. McHugh serves as the Orthopedic Physical Therapy Residency Director and leads the Spine Curriculum and Leadership Module. As a dedicated researcher, Dr. McHugh has worked on over 40 presentations and abstracts since 2011, offering resources around topics including biomechanics, lower back pain, residency education, motivational interviewing, and self-efficacy in children and adolescents. She received rave reviews at the 2017 APPTAC Annual Conference for her lecture on Treatment Progression for adolescent low back pain, and she was a presenter at the CCHMC 2018 Spine Symposium. 
Karen D. Rumsey, MSW, LISW-S, '10 – School of Social Work
Karen Rumsey is a respected community advocate who cares deeply for victims and witnesses of violence. She currently serves as the Health Programs Manager Witness Advocacy for the City of Cincinnati Police Department, where she acts as liaison between investigating detectives and surviving families, as well as witnesses of crimes. She began her social work career working at Hamilton County Children's Services as a Case Aide and worked her way up to become a Child Protective Case Worker. She completed her MSW internship with the Cincinnati Police Department Victims Assistance Program, was hired as a grant-paid advocate in 2014, then assumed her current role of director in 2017. Under her leadership, the department has developed the Victims Assistance Liaison Unit, the award-winning Homicide Survivors Youth Initiative, and the Cincinnati Citizens Respect Our Witnesses program, a community venture to address violence and promote engagement while intervening in cycles of violence. Since earning her master's degree in Social Work from UC in 2010, she has been an invaluable community partner while giving back to her alma mater by serving as a field instructor for the MSW program.