UC Alumni Association Scholarships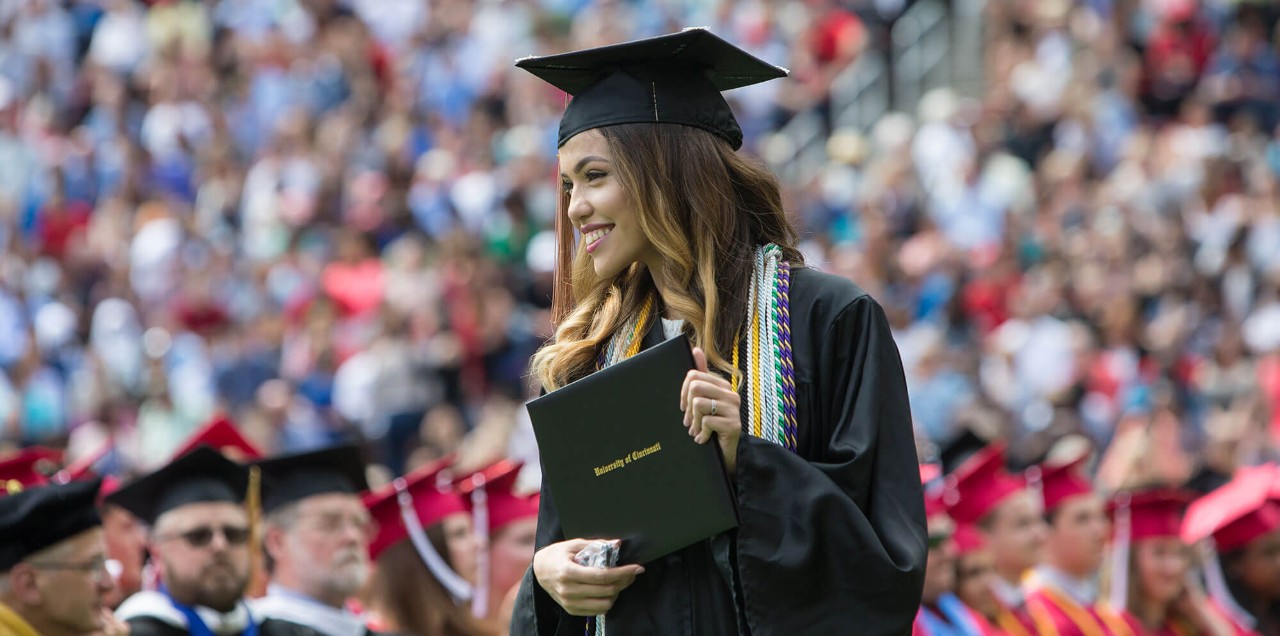 Through the generous support of UC's alumni community, the UC Alumni Association awards more than $100,000 each year to approximately 50 exceptional UC students. Current and incoming students are considered for four distinct scholarship opportunities, two of which benefit direct descendants of UC alumni.
The complete admission application received by December 1 will serve as the Alumni Association scholarship application for the Christos P. Demakes Legacy Scholarship and the Regional Alumni Network Scholarship for incoming freshmen. Eligible students will be identified and invited to submit next steps for alumni award consideration.
UCAA's flagship scholarship fund was named for Darlene Carter upon her 2020 retirement to honor her decades of dedicated service on the UC Alumni Association staff and her devotion and assistance to countless students through the years.

Combining funds derived from private gifts as well as UCAA's Ohio C-Paw license plate program, the Darlene H. Carter UCAA Scholarship Fund supports the renewal of Christos P. Demakes Legacy Scholarships after recipients' freshman years and select Regional Alumni Network Scholarships.
Named in honor of past UCAA Executive Director Christos Demakes, this scholarship is given to select first-year students and is renewable for up to four years while students are studying at UC.
Eligibility requirements include:
Incoming UC first-year student
Parent or grandparent attended UC
Parent or grandparent is a current Loyal Bearcat or William Howard Taft Society donor as of Feb. 7
Complete admission application (including transcript and test scores) by Dec. 1
To apply for the 2023-2024 academic year:
Your application to the University of Cincinnati auto-enrolls students identified as meeting the above requirements
If you have applied to UC but your parent is not a current Loyal Bearcat or William Howard Taft Society member, they can make their gift by Feb. 27, 2023 to ensure eligibility
No additional application/essay is needed. The application essay will be used to determine final candidates
Individuals will be notified directly if selected to receive the scholarship. If you have any questions, please contact McKenzie Morin.
Awarded on behalf of UCAA's 30-plus national alumni networks to support local future Bearcats.
Eligibility requirements include:
Eligibility requirements include:
Current full-time junior at UC
Excellence in academics
Devotion to student activities and community service
Strong sense of loyalty and commitment to the University of Cincinnati
The scholarship process for the 2023-2024 academic year will open spring 2023. If you have any questions, please contact Sam Speyer. 
The African American Alumni Affiliate (4A) proudly awards scholarships to underrepresented students intent on pursuing an international experience to enrich their college experience. We believe adventure is the best way to learn. By increasing exposure to international experiences we contribute directly to creating well-rounded students with unlimited opportunities post-graduation. The scholarship can be used for study abroad or an international coop. The awards have ranged between $500-1,000 based on fund availability.

Eligibility requirements include:
Involved in a cultural organization
Possess, at least, a 2.75 GPA
Have a minimum of 15 credit hours; graduate students are also eligible
Be able to show proof of 10 or more community service hours
Registered for a trip during the Spring, Summer or Fall semesters of 2023
Applications are due Jan. 22, 2023.
The University of Cincinnati Alumni Association has established the Taiwan Alumni Scholarship to support Taiwanese students studying at the University of Cincinnati. Students often receive financial aid to cover the cost of tuition, but still need money to purchase their meal plan and cover other living expenses. Learn more.