College of Pharmacy Alumni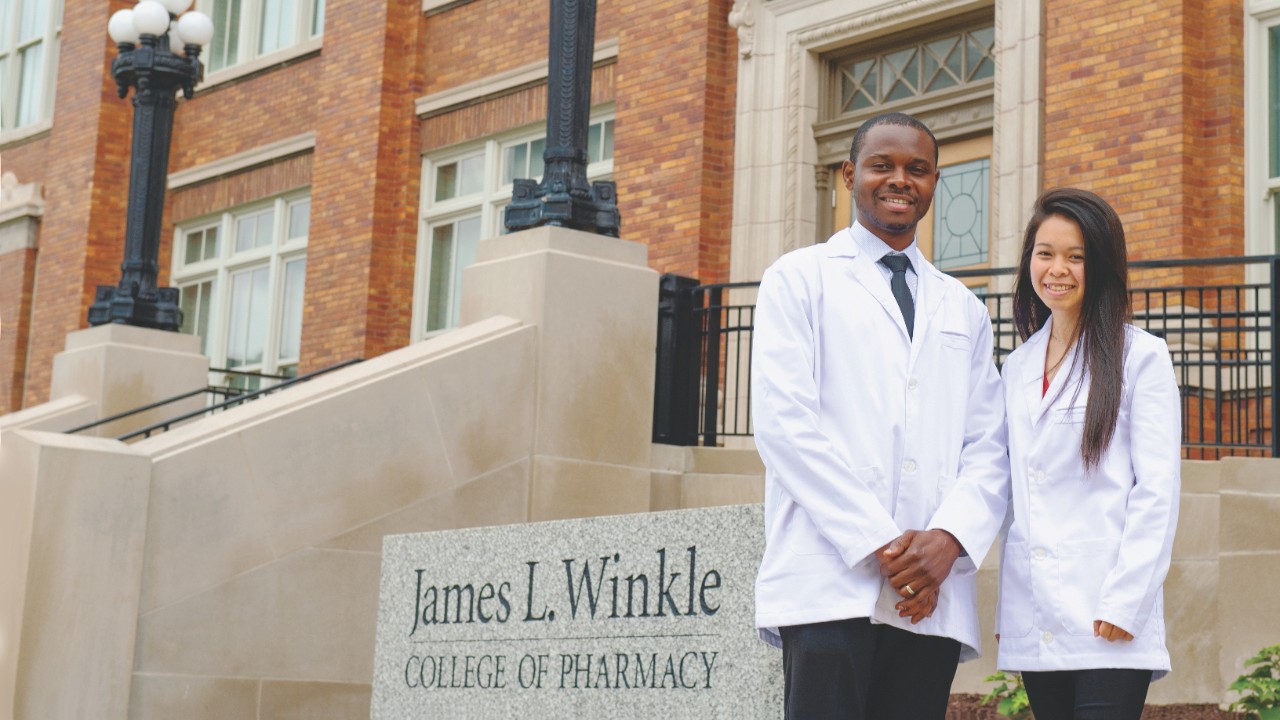 The UC James L. Winkle College of Pharmacy proudly counts over 4,000 alumni in pharmaceutical sciences and the pharmacy profession, creating a dynamic, influential and innovative alumni network. Engage with us by sharing your story, joining us for signature programs, and participating in volunteer opportunities.
VIRTUAL TOWN HALL
Hear updates from Dean Neil MacKinnon on what's happening in the James L. Winkle College of Pharmacy! Learn how the college has adjusted to online learning and hear from alumni who are on the front lines battling the COVID-19 threat in their communities.
COLLEGE OF PHARMACY CELEBRATES KOWALEWSKI HALL
A host of pharmacy industry professionals joined hundreds of James L. Winkle College of Pharmacy alumni, faculty, staff and students for the Sept. 14, 2019 celebration marking the completion of Kowalewski Hall, the college's permanent home on the University of Cincinnati's medical campus.
COLLEGE OF PHARMACY: COVID-19 RESEARCH
In response to the global COVID-19 threat, the University of Cincinnati College of Medicine's Office of Research committed $425,000 to fund pilot projects that focus on all research aspects of COVID-19 including the time of incubation, when it can be transmitted, and its proclivity for different segments of the population. 
The James L. Winkle College of Pharmacy Alumni Council is a volunteer group that works with the Associate Director of Alumni Relations and the Dean to foster fellowship among alumni, provide opportunities for continuing education, and serve as a liaison between alumni and the college, faculty, administration and the students.
Terry Brotherton '80
Matthew Budke '13
Aaron Dershak '04
Peter Djuric '84
Hanna Burgin Eurich '17
Bill Farrell '73
Emily Hellmann '17
Herbert Hunter '84
Kathy Imhoff-Witt '05
James Kiffmeyer '80
Norb Kinross '99, '01
Marcie Malone '09
Ryan Marable '13
Gail McFaddin '15
Jennifer Rudell '99
Jed Tuten '10
Find the College of Pharmacy on Social Media
Find Dean Mac on Social Media
Find the College of Pharmacy Alumni Council on Social Media
Briana Coggins, A&S '10
Program Director, Alumni and Donor Experience, College of Allied Health Sciences and James L. Winkle College of Pharmacy
513-556-4005