UC Bearcats License Plates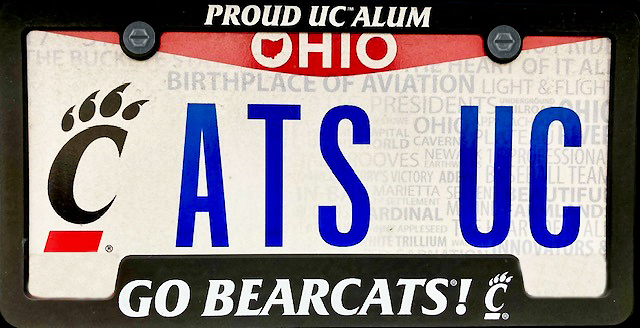 When you get your official UC license plate, you also support scholarships for UC students! UC's share of the annual special-plate fee ($25 out of the $35 total) goes to fund scholarships awarded through the UC Alumni Association.
Order your official Ohio UC plates one of four ways:
Order online directly from the Ohio Bureau of Motor Vehicles website
Call 1-888-PLATES-3
Go to your local Deputy Registrar and ask for the University of Cincinnati collegiate license plate
Print and complete this application and mail to:

Bureau of Motor Vehicles
Registration Section
Collegiate License Plates
PO Box 16521
Columbus, OH 43266-0021
For additional details, contact the UC Alumni Association at 513-556-4344 or email us.
Information on the application must be as it appears on your Ohio Certificate or Memorandum Certificate of Title. When the BMV receives your form in the mail, a billing notice will be mailed to you containing registration fees, owner and vehicle information. You must sign and date the billing notice and submit a check or money order payable to the State of Ohio BMV. License plates will then be mailed to you within 7-10 days. You may exchange your current plates for collegiate plates at any time between registration periods. Credit will be given for registration and permissive taxes already paid. If you are asked to complete a "Consent to Contact For Special Plates" form from the Ohio BMV you will be asked for an organization code. The UCAA organization code is "8". The official UC license plates are available to Ohio drivers only.