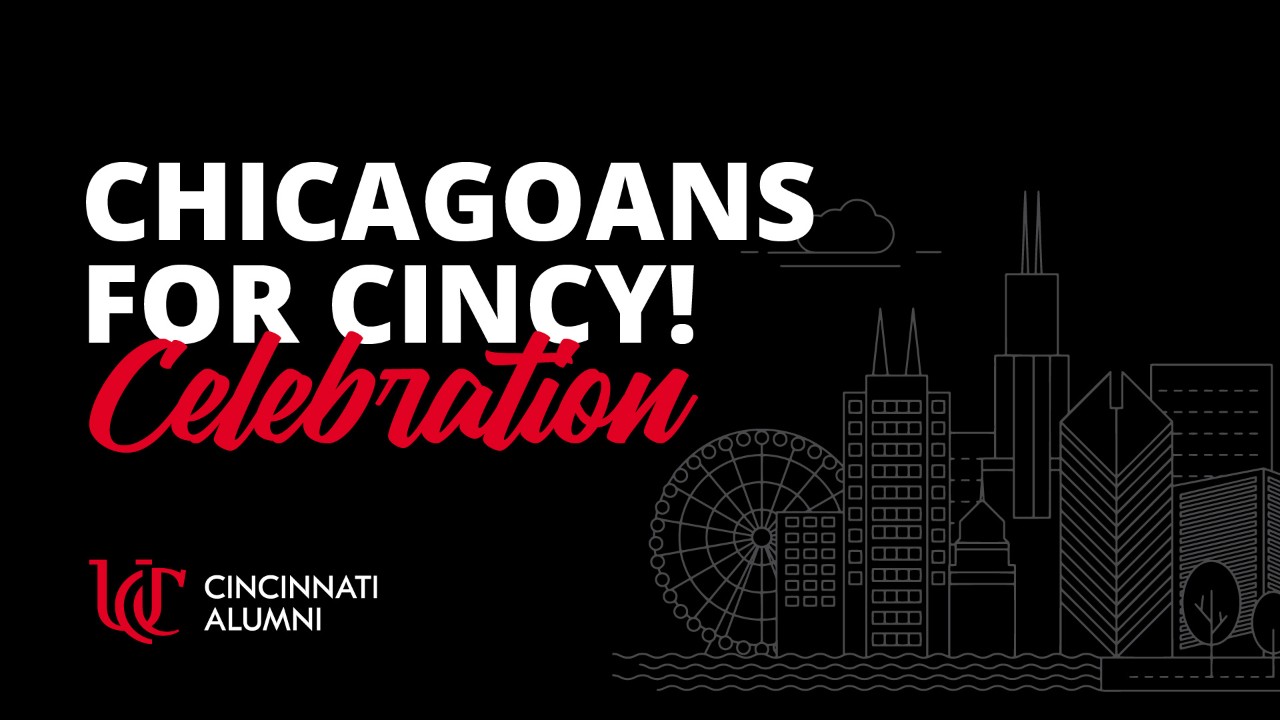 Chicagoans for Cincy! Virtual Tasting & Trivia
Thank you to those who were able to join us for Chicagoans for Cincy! Virtual Tasting & Trivia on Thursday, Feb. 25! We hope you enjoyed hearing remarks from UC leadership, along with the wine tasting and trivia.
We are excited to announce the launch of our new crowdfunding page. With the momentum from #GivingTuesday, we hope you'll continue to join us in the philanthropic efforts that support the Chicagoans for Cincy! Alumni Scholarship. Your support will help create a positive impact for students attending UC — a place students actively seize their opportunities to shape the future for themselves, their families, and all of us.
Thank you to all those who participated in supporting the Chicagoans for Cincy! Alumni Scholarship Fund on #GivingTuesday this year! Your generous gifts will continue to help Chicago's best and brightest students receive a world-class education at our alma mater, one of the nation's top urban research universities. A special thank you to Eva and Lynn Maddox who provided support for a matching gift opportunity this year.

In total, Chicagoans for Cincy! raised $6,545, which was part of the $265,299 total raised on #GivingTuesday for the University of Cincinnati and UC Health.
Chicagoans for Cincy! and the Chicago Alumni Network annually recognize UC alumni for their professional achievements and service to the university.
2020 Chicagoans for Cincy! Alumni Award Winners
Outstanding Achievement Award - Donald Nally, CCM '82
This award is given to an alumnus of UC on the basis of notable achievement in his or her field. This award differs from the Distinguished Service Award in that it is not restricted to service to the university.
Donald is responsible for imagining, programming, commissioning, and conducting at The Crossing, which The New York Times has called "America's Most Astonishing Choir." He has been nominated for five Grammy Awards for Best Choral Performance, winning in 2018 and 2019. Donald is the director of choral organizations at Northwestern University, where he holds the John W. Beattie Chair of Music. He has served as chorus master at the Lyric Opera of Chicago, Welsh National Opera, Opera Philadelphia, and for many seasons at the Spoleto Festival in Italy. He has also served as music director of Cincinnati's Vocal Arts Ensemble, chorus master at The Chicago Bach Project, and a guest conductor throughout Europe and the U.S.
He was the American Composers Forum 2017 Champion of New Music, and received the 2017 Michael Korn Founders Award from Chorus America. He is the only conductor to have two ensembles receive the Margaret Hillis Award for Excellence in Choral Music — the Choral Arts Society of Philadelphia in 2002 and The Crossing in 2015. Donald has taught masterclasses at the College-Conservatory of Music (CCM) at the University of Cincinnati, the University of Illinois, Indiana University, Duke University, the University of Notre Dame, and Colgate University. He has been a guest speaker on panels at the national conferences of the National Association of Teachers of Singing, Opera America, Chorus America, and the American Choral Directors Association, as well as at Yale University.
In addition to his work with The Crossing, Donald has recently been visiting resident artist at the Park Avenue Armory, music director of David Lang's 1,000-voice Mile Long Opera on the High Line in Manhattan, and chorus master for the New York Philharmonic for world premieres of Julia Wolfe and David Lang. He has worked closely with Lang and artists Allora & Calzadilla on projects in Osaka, London, Edmonton, Cleveland, Houston and Philadelphia. In 2019, he was awarded an honorary doctorate from Westminster Choir College.
Distinguished Service Award - Paul KingsleyPaul Kingsley, A&S '98
This award is given to an alumnus of UC who has faithfully rendered outstanding service to the University of Cincinnati. This award is meant to recognize outstanding volunteer contributions by UC Chicago alumni and demonstrate appreciation to those who are usually over-modest, unpaid, and unthinking of personal reward.
Paul graduated Phi Beta Kappa with a degree in economics. Upon graduation, he was awarded the McKibbin Medal for Outstanding Undergraduate Male Senior from the College of Arts & Sciences, and as a student was active in intramural athletics, sang in the UC Men's & Women's Choruses, and was the President of Phi Alpha Delta Pre-Law Society.
After graduating from UC, Paul attended Harvard Law School, graduating in 2001. He went on to practice mergers and acquisitions with a subspecialty in sports law in Chicago until 2005. Notable work included assisting clients in the purchases of Universal Studios, MGM Studios and the Oakland Athletics. Following his stint in Chicago, Paul moved to Phoenix where he lived for nine years working in commercial real estate and starting his own commercial real estate law practice. He was an active participant in the UC Phoenix Alumni Network.
While he returned to Chicago in 2014, Paul continues to grow his Arizona commercial real estate practice. Working remotely for the past five years, he's assisted clients in closing more than $2 billion in commercial real estate transactions.
Paul is the chairman of the Scholarship Committee for the Chicagoans for Cincy! Alumni, the "unofficial" keeper and promoter of the Chicagoans for Cincy! Facebook page, and has been a UC football season ticket holder for the last five years. One of his most cherished UC alumni memories is walking down Bourbon Street in 2010 at the Sugar Bowl. He lives in West Loop with his two sons, who he is raising to be avid Bearcat fans and hopefully future Bearcats. His favorite colors are red and black.
Outstanding Achievement Award
Eva Maddox
Alan Channing
Denny Reigle
Wally Becky
Brent Freese
Susan King
Tom Behringer
Michael Schroeck
Distinguished Service Award
Denny DeMoss
David Watkins
Chris and Spes Mekus
Yetta Starr
Matt Wagner
Patty Klingbiel
Sean Connell
Rising Star Award
Paul Green
Cindy Chiang
Andrew Eloff
John Lutz
Ann Taylor
Adjoa Anyane-Yeboa
Get Involved
Interested in getting involved with the Chicagoans for Cincy! committee? Contact Chicago Alumni Network Leader, Dave Watkins.