Chicagoans for Cincy! Celebration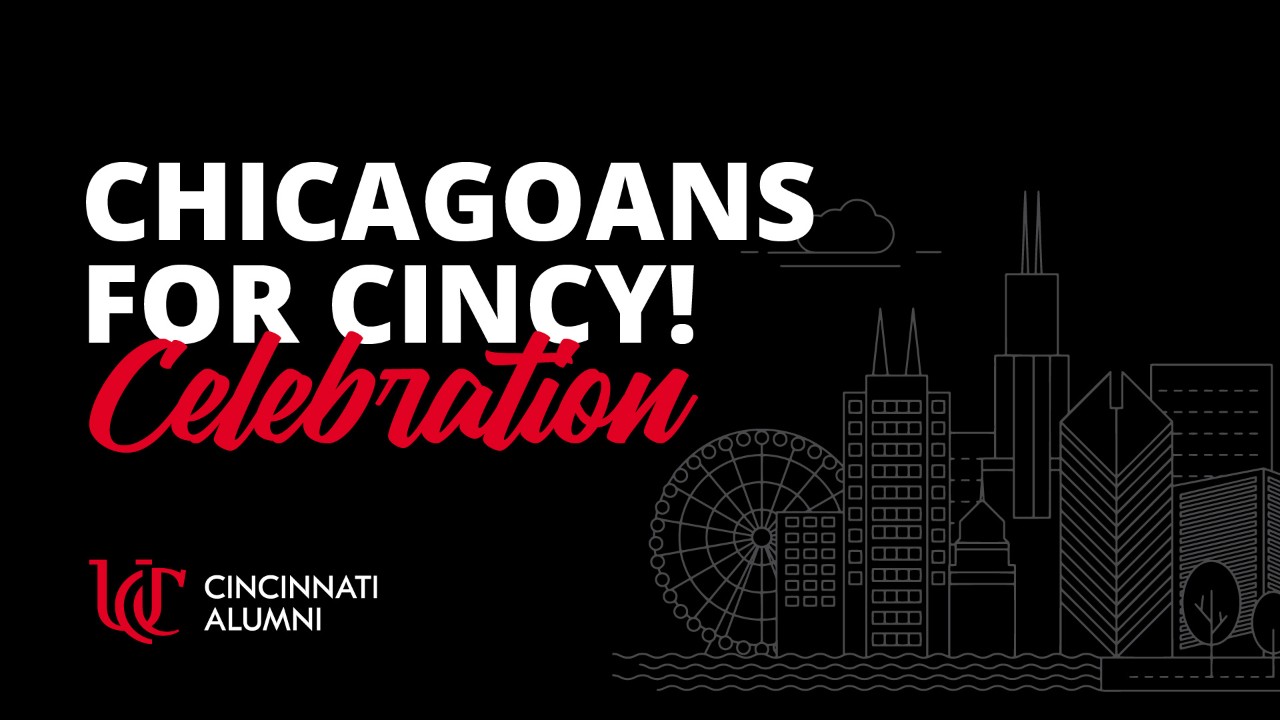 The 2022 Chicagoans for Cincy! Celebration is back in-person. Join us for an evening of Bearcat spirit, including drinks, bites, silent auction, raffle, awards and remarks from UC leadership.
Thursday, Feb. 24, 2022
6:00 – 10 p.m. 
Venue West
221 N. Paulina St.
Chicago, IL 60612
Located in Fulton Market
It will be an unforgettable evening — and we invite you to be part of the festivities as a sponsor and guest. Our sponsors will receive special recognition at the event and in all promotional materials. We are also looking to secure donated items and experiences for our silent auction. For sponsorship opportunities, review our 2022 Sponsorship Packet.
Each year, our sponsors elevate this important event and experience — local recipients of the Chicagoans for Cincy! student scholarships, co-ops working here in Chicago, and area alumni and donors who help Chicago thrive while keeping their UC passion alive. To see this year's sponsorship opportunities, please click here.
Chicagoans for Cincy! supports scholarships that help Chicago's best and brightest students receive a world-class education at our alma mater, one of the nation's top urban research universities. Since establishing an endowed scholarship fund in 2016, Chicagoans for Cincy! has raised well over $100,000 to provide an annual scholarship award for incoming freshmen from the Chicago area, renewable for up to 8 semesters pending fund availability and student eligibility.
Thanks to all those who supported the Chicagoans for Cincy! Alumni Scholarship this past year. Between #GivingTuesday 2020 and the crowdfunding page, Chicagoans for Cincy! raised over $22,000.
Chicagoland Bearcats look forward to recognizing and celebrating the many contributions and overall excellence of UC alumni at the annual Chicagoans for Cincy! Celebration.
Chicagoans for Cincy! Celebration and Chicago Alumni Network volunteers review award nominee materials and select the award winners. Honorees are notified in advance of the annual celebration, where they will be recognized. UC colleges, institutional partners, alumni, past award-winners, Bearcat family, and friends are all encouraged to nominate a great Chicago Bearcat. Nominations for the 2022 Celebration are now closed.
This award is given to a UC alumnus who has faithfully rendered outstanding service to the university. It recognizes outstanding volunteer contributions by UC Chicago alumni and shows appreciation to those who serve without expectation of personal reward.
From Neal's nomination:
"As a student, he was directly influenced by Warren Bennis, UC's president from 1970 to 1977. He worked for Warren's family and saw firsthand- what a global leader should be. Warren really had a tremendous impact on his life and career. Neal is extremely passionate about UC. He has an undergraduate degree from A&S and a Law degree. He owes a lot of his success to Warren and has been an advocate for developing the Warren Bennis Leadership Institute at UC. He provided a lead gift to start the student-led Warren Bennis Leadership Experience in 2018 and has been a mentor to Jack Fitzgerald '17, '20."
This award is given to a UC alumnus on the basis of notable achievement in his or her field. It differs from the Distinguished Service Award in that it is not restricted to service to the university.
From Larry's nomination:
"Larry is a retired healthcare finance executive. He worked as the Senior Vice President and CFO for Aksys, Ltd., a provider of hemodialysis products and services for patients in renal failure. He spent 17 years with Fortune 500 healthcare company Baxter International as a VP/Controller and Corporate Treasurer. Larry also served as a Lieutenant in the U.S. Navy in the Vietnam War."
This award is given to a young or newly-involved alumnus of UC on the basis of professional achievement in his or her field of endeavor, and continued service and involvement with the university and community.
From Kathleen's nomination:
"UC graduates scores of outstanding, ambitious, and bright students every year who go on to do amazing things and I have had the good fortune to know and be inspired by a great number of them. But what makes Kathleen Hurley special among this talented company is her commitment to the service of others. The pandemic changed a lot of things about our society and many among us have just been holding on, hoping for the best. But the silver lining of any difficult situation is that it brings out the best of the truly great among us. Kathleen stepped up in those dark times, forging a path for her school and students in the uncertainty of the early days of the pandemic, maximizing her student's opportunities, and leading the way forward, while also going on to graduate with her Master's in Education and passing the principal licensure exams."

Outstanding Achievement Award
Eva Maddox
Alan Channing
Denny Reigle
Wally Becky
Brent Freese
Susan King
Tom Behringer
Michael Schroeck
Donald Nally
Distinguished Service Award
Denny DeMoss
David Watkins
Chris and Spes Mekus
Yetta Starr
Matt Wagner
Patty Klingbiel
Sean Connell
Paul Kingsley
Rising Star Award
Paul Green
Cindy Chiang
Andrew Eloff
John Lutz
Ann Taylor
Adjoa Anyane-Yeboa
Chicagoans for Cincy! is a group of dedicated UC alumni living in the Chicago area. We encourage local students to attend UC, we promote Chicago as an extraordinary job destination for all UC graduates, and we hold the premier UC alumni event outside of Cincinnati each year.
Along with the UC Foundation and UC Alumni Association, Chicagoans for Cincy! supports scholarships that help Chicago's best and brightest students receive a world-class education at our alma mater, one of the nation's top urban research universities.
If you haven't already, join the Chicago Alumni Network Facebook Group and LinkedIn Group to keep in the loop with Chicagoland Bearcats.
UCAA in-person activities will be provided under CDC guidelines and local COVID-19 restrictions, with the well-being of the UC alumni family remaining the top priority. Each experience will follow the venue's established restrictions and guidelines and we ask all event participants to follow the venue's posted recommendations. View UC's current COVID-19 updates.
Get Involved
Interested in getting involved with the Chicagoans for Cincy! Committee? Contact Chicago Alumni Network Leader Jacki Adkins.