Volunteer with the UC College of Engineering and Applied Science
Thank you for your interest in volunteering with the UC College of Engineering and Applied Science. Alumni like you provide our students with vital personal and professional development opportunities. Please consider volunteering with the college to make a positive difference with CEAS students.

Please review the following ways that you can get involved with the college and register using the online form if you would like to volunteer for any of the opportunities described here.
College-Wide Volunteer Opportunities
Through Dinner with Bearcats, UC alumni host current UC students for dinner in their homes or at restaurants for an evening of networking and socializing. Such interaction allows everyone to share their stories and learn about their respective experiences and aspirations.
Each spring CEAS Tribunal and Tau Beta Pi host a Senior Design Showcase. This event is an opportunity for senior design students across all engineering majors to demonstrate their CAPSTONE project in action, as well as paint a picture of what engineering students do here at UC. Students have the opportunity to compete for four cash prizes: overall 1st, 2nd, and 3rd, as well as a crowd favorite. In addition to alumni judges, there is representation from industry and college faculty to ensure a thorough and diverse assessment of all projects.
Help current CEAS students receive feedback on their resumes by participating in this annual event held during Career Fair and hosted by CEAS Tribunal. Sessions are held in 20 minute intervals and reviewers are able to sign up for a portion, or the entire day. Parking and lunch is provided.
We are always looking for alumni who are willing to share their story with current and prospective students. Let us know if you are willing to speak to a classroom, sit on an industry panel, or attend a student and alumni networking event.
The CEAS Alumni Board has two committees that are open to any CEAS alumnus/a, regardless of whether they are a current CEAS Alumni Board member. These committees are a great way to volunteer for those who live nationally and are not able to get back to campus for other events or activities.
CEAS Alumni Scholarship committee
The CEAS Alumni Scholarship is awarded annually to outstanding graduating seniors who have demonstrated well-rounded abilities in Leadership, Community Service, and Professional Practice Experience. Application review begins in June each year, and the scholarship is award to seniors at the beginning of their final year.

S.O.A.P. (Student Organization Assistance Program) Committee
CEAS Alumni Board provides a limited number of financial grants to support CEAS undergraduate student organizations through the Board's Student Organization Assistance Program (S.O.A.P.). This program is funded by the Herman Schneider Foundation and application review begins in late February/early March each year
The CEAS Office of Inclusive Excellence & Community Engagement (IECE) mentoring programs have a goal of increasing the retention and graduation rates of Women and Racially and Ethnically Diverse students in the College of Engineering and Applied Science. Mentors encourage success, utilization of resources, leadership development and pursuits of graduate school and future career endeavors. IECE program staff will provide Mentors/Mentees with discussion tools, resources and materials to get going to start defining roles, expectations and information. The programs run fall-to-spring each year.
Promote, attend and assist at alumni or fundraising events on or off campus. Examples of events in need of alumni volunteers include: CEAS Alumni Scholarship Golf Outing, Homecoming, and our CEAS Awards Luncheon.
CEAS Admissions Office is looking for alumni who are interested in helping staff college fairs, speak to prospective students, and write letters to accepted students. This is a great opportunity to help recruit the next generation of CEAS students.
We are looking for alumnae who are interested in helping current CEAS undergraduate women through our Women in Engineering programs. Opportunities include Women in Engineering and Technology Day (held each fall, volunteers serve on a career panel), Women in Engineering Call Campaign (volunteers call to congratulate high school women admitted to CEAS each Feb.) and Women in Engineering 5-Star Mentorship Program (mentors are paired with first-year woman engineering student for a fall-to-spring program).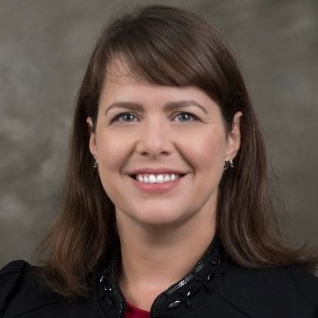 Ann Terry
Senior Director of Alumni & Donor Experience, College Relations, College of Engineering and Applied Science