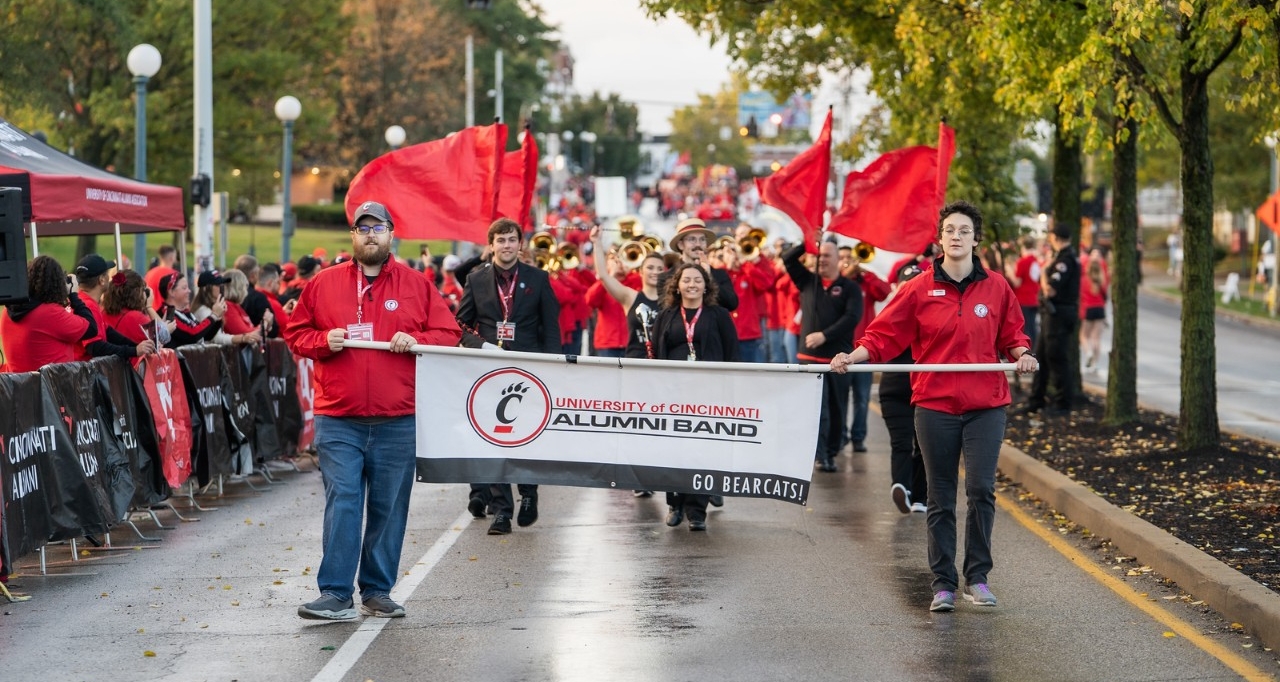 Alumni Band Homecoming Activities
This registration is now closed. For questions regarding Alumni Band Homecoming activities, please email Natalie Ochmann at 440-623-3082.
Homecoming Reunion at Irish Heritage Center 
Friday, Nov. 5
6 - 10 p.m.
Irish Heritage Center
3905 Eastern Ave,
Cincinnati, Oh 45226
This year, the Alumni Band Homecoming Reunion on Friday, Nov. 5 will be located at the Irish Heritage Center, 3905 Eastern Ave, Cincinnati, OH 45226, from 6 to 10 p.m. The entrance is in the front, along Eastern Ave. Parking and an accessible entrance is available in the back of the venue.
Alumni Band Reunion registration includes your meal, cash bar, and our annual scholarship raffle. We hope you'll join us to reminisce over 100 years of history and enjoy the company of fellow Bearcat Bands alumni.

Individual $30; Couple $60
Alumni Band Gameday Activities
Saturday, Nov. 6
Noon - Parade immediately following ESPN College GameDay
3:30 p.m. - Kickoff
We have many different ways to get involved—our reunion, parade, and tailgate are just some of your choices. Pick options that work with your ideal day.

Alumni Band Tailgate
We partner with the Red and Black Brigade to offer a tailgating area for alumni band members. Drop by to connect and celebrate homecoming with your alumni band peers!
Join the Alumni Band to #OutnumberTheKids at the 2021 Homecoming Performance! Reconnect with friends, relive your glory years, and join the UCBAA for events of your choice.
March in the Homecoming Parade *Requires registration
With pride, join your fellow alumni band bearcats in marching during the Homecoming Parade!
*Alumni Band will offer trucks for those with accessibility needs, in addition to registering, please notify Natalie Ochmann
Halftime Alumni Band Performance *Requires registration
Join Alumni Band members as they march with the undergraduate band for a combined halftime performance. We're planning to march more alumni than the undergraduate band in celebration of the UC Bearcat Bands' Centennial. Will you be one of them?
*Alumni Band will offer a legacy line for those with accessibility needs.  In addition to registering, please notify Natalie Ochmann
Anyone marching in the Homecoming Parade or performing at halftime is expected to attend a rehearsal on Saturday, Nov. 6 in the morning prior to the parade. We will also have an optional music rehearsal on Friday, Nov. 5 in the afternoon at the Rockwern Band Center. Times TBA; Saturday morning rehearsal is typically 6 hours prior to kickoff, before parade lineup.
A game ticket is required for entry into the stadium to perform at halftime.
The ticket purchase process is different this year, so please adhere to the following instructions:
Performing members only, who wish to sit with the Alumni Band during the game, click the below "purchase game tickets" link, enter the code UCBAND2021 into the promo code box in the upper-left hand corner, and select "Find tickets." Tickets are in the student section and are $25.
Please do not purchase performing members tickets for friends and family.
For friends and family, or performing members who wish to sit with their family during the game, enter the code UCBAND1 into the promo code box in the upper-left hand corner, and select "Find tickets." Tickets are in section 102 and are $30.
UC Alumni Band Jacket *Requires registration
To march in gameday activities, the UCBAA requires that you wear our official uniform jacket. Legacy versions are acceptable. We will have a small number available for rental on gameday, but highly encourage purchasing your own.
*If you are a 2020 o 2021 Senior, please choose the "Senior Jacket" registration option to receive a complimentary jacket. 
Instruments *Requires registration
Please provide us with your instrument info in the below registration. UCBAA has instruments available to borrow, but we do ask that you provide your own mouthpiece, reeds, and/or sticks.
If additional instruments are needed that exceed our inventory, Buddy Rogers Music has graciously offered to allow our members a short term rental option for free, with a suggested donation of $20.00 or more to the Boldly Bearcat Bands Instrument Fund in lieu of a rental fee. The Alumni Board will assign instruments and will notify you if any additional information is needed.
Need to pay your UCBAA membership dues?
UCAA in-person activities will be provided under CDC guidelines and local COVID-19 restrictions, with the well-being of the UC alumni family remaining the top priority. Each experience will follow the venue's established restrictions and guidelines and we ask all event participants to follow the venue's posted recommendations. View UC's current COVID-19 updates.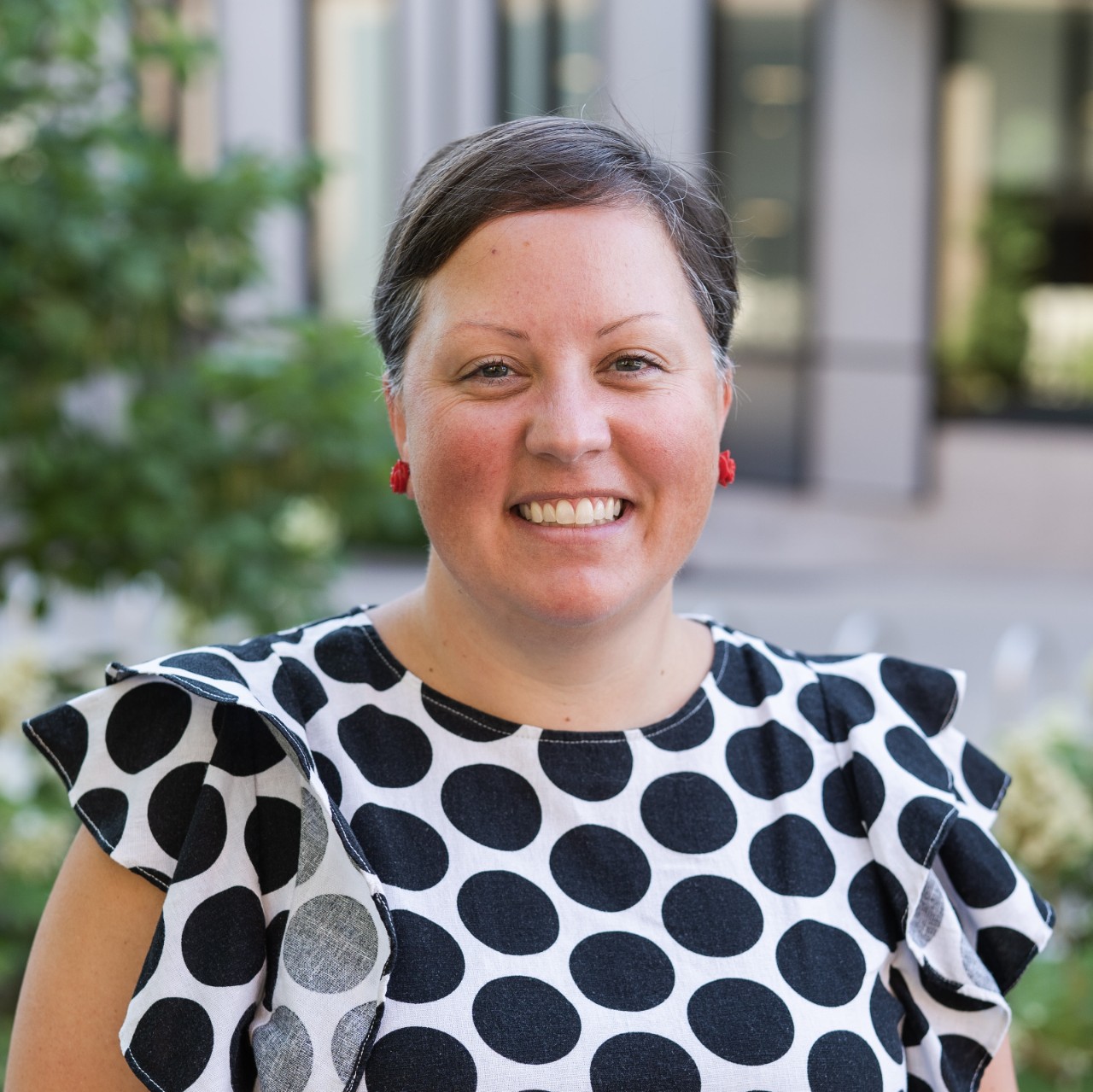 Maggie Ibrahim-Taney
Program Director of Alumni & Donor Experience, Special Interest & Athletics Engagement