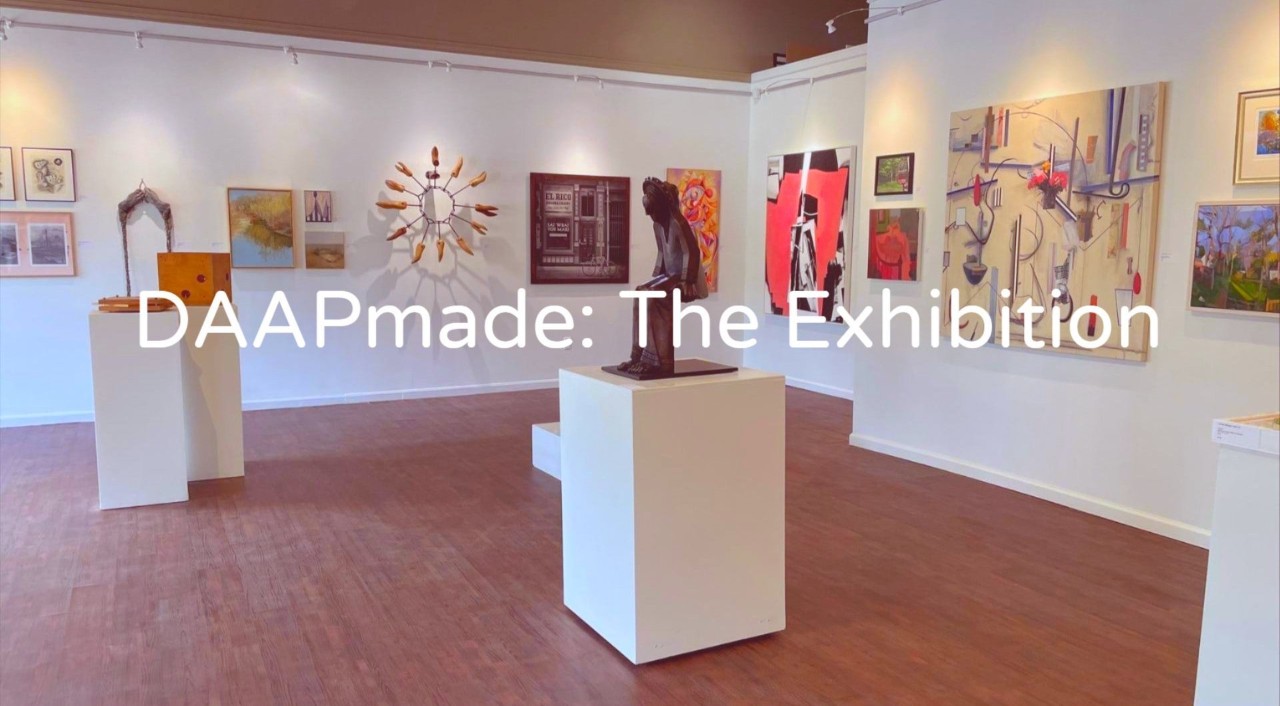 Join us for the opening reception! A showcase of the talents from the University of Cincinnati College of Design, Architecture, Art, and Planning, this juried exhibition presents work of DAAP Alumni from all creative backgrounds as well as faculty and faculty emeriti. 
DAAPmade: The Exhibition will run Sept. 3-Oct. 2, 2021.
Mike Agricola, BFA '96
Valerie Allen, BFA '74
Rob Anderson, MFA '07
JJ Baker, BFA '16
Jo Ann Berger, BSDE '91                  
Sue Blaney, BSDE '79
Alleen Blesi Manning, BFA '72, MAE '74
Annette Carothers, MFA '85
William Cole, BFA '76
Carole Conatser, BFA '69
Robert Coomer, BSDE '94
Cedric Cox, BFA '99
Betty Dannenberg, BSDE '76
Bradley Day, BFA '02
Kerry Didday, BSDE '96
Bev Erschell, BFA '69, MFA '71
Linda Fischer, BSDE '71
Katherine Gibson, MFA '20
Samantha Haring, DAAP Faculty
Ann Headley, BSDE '77
Meighen Jackson, MFA '74
Steven  Justice, BSDE '79
Robbie Kemper, BSDE '80
Kate Kern, MFA '81
Leatha Koefler, BFA '70
Paul Kroner, BSDE '82
Matt Kroner, BSDE '08
Diane Kruer, MFA '81
Mary Linhardt, BSDE '74
Rachel Linnemann, MFA '21
Craig Lloyd, MFA '75
Cynthia Lockhart, BSDE '75, MDes '99, Faculty Emeritus
Max Manning, MFA '14
MOTE Projects; Anca Matyiku, DAAP Faculty + Chad Connery
Alex McClay, BFA '14
Lisa Merida-Paytes, MFA '97
Betsie  Molinsky                   
Kevin O'Grady, BFA '05
Michael Romanos, Faculty Emeritus
Jeffrey Scanlan, BARC '88                
Jamie Schorsch, BFA '01, MAE '04
Erica Siefring, BFA '20
Jessica Simort, MFA '14
John T. Spence, MCP '85
Sara Torgison, MFA '21
Nicole Trimble, MFA '13
Kelly Volz, BSDE '14
Julie Ward, MFA '14
Trish Weeks, BSDE '78
Jan (Harbolt) Wiesner, BFA '79
Michael Willett, MFA '09
Jim Williams, MFA '77, Faculty Emeritus
Nancy Willis, BFA '76
UCAA in-person activities will be provided under CDC guidelines and local COVID-19 restrictions, with the well-being of the UC alumni family remaining the top priority.  Each experience will follow the venue's established restrictions and guidelines and we ask all event participants to follow the venue's posted recommendations. View UC's current COVID-19 updates.