This page contains biographies for the recipients of the four signature UC Alumni Association 2016 awards.
College of Allied Health Sciences
College of Arts and Sciences
Elizabeth A. Murray, PhD, '88, '93
Hon. Andrew D. Ciafardini '01
Carl H. Lindner College of Business
Robert G. "Bob" Lees '74, '76
College-Conservatory of Music
College of Design, Architecture, Art, and Planning
College of Education, Criminal Justice, and Human Services
Patricia O'Reilly, PhD, '52, '67, '71
College of Engineering and Applied Science
Marianna Bettman, JD, '66, '77
George S. Deepe, Jr., MD '76
Lou Ann T. Emerson, PhD, '63, '71
James L. Winkle College of Pharmacy
Thomas E. Imhoff, PharmD, '71, '74
Michael W. "Mick" Cronin, A&S '97
William Howard Taft Medal for Notable Achievement
This award is given to an alumnus of the University of Cincinnati solely on the basis of notable achievement in his or her field. The Taft Medal differs from the Robert E. Dobbs Distinguished Service Award in that it is not restricted to service to the university. The award is in honor and memory of William Howard Taft, Law 1880, Hon 1925, twenty-seventh president of the United States and tenth chief justice.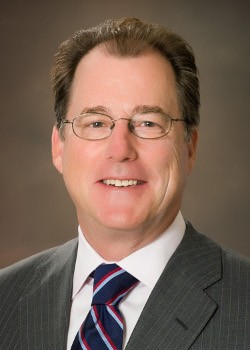 Richard E. Thornburgh
Bus '74, Hon '09
Over a stellar 40-year career in the global financial services industry, Dick Thornburgh has a been a pragmatic and deft leader in various roles — investment banker to the financial services sector, C suite executive, private equity professional, full-time not-for-profit and corporate director. Through those years, his decisions and actions touched millions of people, national interests, and the structure of financial services.
At UC he was recognized early for his leadership skills and was elected Student Body Vice President. He was the force behind elevating men's club soccer to varsity sport status. He served as the Bearcat mascot. He was a member of a fraternity and top men's honorary organization Sigma Sigma. He was selected the outstanding business college undergraduate, and during his senior year was named Mr. Bearcat (the highest honor granted to a graduating male student) while earning his BBA cum laude in finance. After graduation, he entered Harvard Business School, receiving his MBA two years later.
Immediately upon graduating from Harvard, Thornburgh joined and spent 30 years working under the Credit Suisse ("CS") umbrella, the first 20 with The First Boston Corporation as an investment banker ultimately specializing in serving commercial banks. During that time, he worked in New York and also lived in Los Angeles while running the firm's office there. His executive career included multiple postings in both New York and Zurich, Switzerland, where he served on the CS executive board for 10 years. At the end of 2005, he retired as an executive, subsequently joining the Board of Directors of Credit Suisse Group A.G. He also joined a former First Boston colleague and mentor at Corsair Capital in 2006 as it was being spun out from JP Morgan. Corsair is a private equity firm specializing in financial services investing. Thornburgh currently is a member of the investment committee; he began a transition from investor to full-time corporate director in 2012.
As an investment banker, Thornburgh advised on many landmark M&A transactions during the heyday of state and federal deregulation during the 1980s and '90s as the commercial banking sector consolidated. Named as CS's first investment banking global sector head managing the Financial Institutions sector, he emerged as a thoughtful and trusted advisor to corporations and governments. The turn of the decade in 1990 was the last global banking crisis prior to the 2008 meltdown, which led to Thornburgh's multiple assignments in recapitalizing the largest thrifts in California; advising the Mexican Government on the privatization of its entire banking system (20+ banks); and advising the governments of Sweden, New Zealand, Australia and the state of South Australia on bank recapitalizations and privatizations.
From 1995 to 2005 while on the CS Group executive board, Thornburgh served as CFO and Executive Vice Chairman of CSFB, and CFO and Chief Risk Officer of CSG. The period included two multi-billion acquisitions while he served in a CFO capacity, and two strategic reorganizations, including one which he led during his last year at Credit Suisse. During his posting in Zurich, he had the distinction of being one of the highest ranking non-Europeans in a corporate leadership role in Swiss industry. During this decade, he also served on the executive committee of the Securities Industry Association for six years with one year as Chairman.
Later, and while at Corsair, Thornburgh worked on two landmark private equity transactions. He led the $6.7 billion recapitalization of Cleveland-based National City Corporation (the 10th-largest U.S. bank at the time) and the $300 million capital raise to conclude an FDIC-assisted acquisition by East-West Bancorp. Both deals were done in 2008, and Corsair investors were out of both investments by Q1 '09 with returns north of 20%. He led two other investments for CapStar Bank and NewStar Financial, both currently profitable and growing institutions.
As a corporate director since 2006, Thornburgh has served on the boards of Fortune 500 companies Dollar General, National City Corp. and Reynolds American Inc. He currently serves in key roles with the following publicly listed companies: As Vice Chairman of the Board of Credit Suisse Group; lead director of the board of NewStar Financial; director of McGraw Hill Financial; and director of CapStar Bank, a privately held institution.
Perhaps more important than the actual work he has done is the manner in which Thornburgh has consistently executed it. Colleagues and competitors alike cite his diligence and sound judgment, the constancy of his fairness and trustworthiness, his steadfast moral compass and unfailing compassion. He is a true industry leader and a sterling example to those around him. Thornburgh has enormously and positively influenced his industry both publicly and behind the scenes, leveraging his sincere, Midwestern, no-nonsense approach to benefit countless people around the world. Not surprisingly, he has been an extremely involved philanthropist, volunteer and servant leader, working and giving generously primarily to educational causes including, of course, his beloved alma mater.
Not-for-profits that have benefited from his direct engagement over the years include the Los Angeles Chamber Orchestra, Junior Achievement of New York, International House at Columbia University, Convent of the Sacred Heart in New York City, and St. Xavier High School in Cincinnati. Thornburgh served 17 years as a trustee of the UC Foundation and serves on the advisory council of the Carl H. Lindner College of Business as well as on the UC Investment Committee.
Robert E. Dobbs Distinguished Service Award
The Robert E. Dobbs Distinguished Service Award recognizes alumni who have rendered outstanding, faithful and selfless service to their alma mater.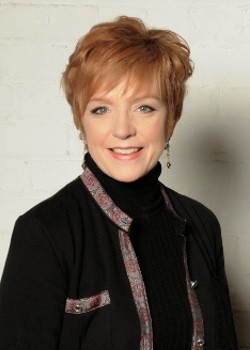 Patricia C. Weller Bresler
DAAP '84
It would be difficult to find someone among the UC alumni family who is more dedicated and passionate in championing her college to future students, fellow alumni and the business community than Patti Bresler is in her personal/professional relationship with the College of Design, Architecture, Art, and Planning.
Bresler's own DAAP education led to a successful design career spanning more than 25 years, the second half of which has been with Brandimage in her native Cincinnati, where as Creative Director she develops new brands and revitalizes existing ones. She is such a strong believer in the immense value of UC's co-op program and DAAP's unique approach to education that she enthusiastically applies her branding talents to her special brand of lifelong service to and advocacy for the college's mission and the opportunities it creates for its students and graduates.
Bresler's volunteer work is legendary within the DAAP community. Even the list of contributions in which she is currently engaged (beyond the many initiatives she has previously supported) is impressive. This includes her service on the Alumni Executive Board, Student Scholarship Fundraising Committee, alumni-sponsored ice cream social event for incoming freshmen, DAAPmade Alumni Engagement and Networking Committee, and the enormously successful DAAPWorks Fashion Show After Party and the Dean's pre-show VIP Reception (which she chairs).
Student recruitment has been a long-time area of particular passion for Bresler, and her DAAP peers frequently hear and tell stories about how she has educated outstanding high school students about DAAP's professional fields, provided them with opportunities to see those professions first-hand via shadowing her or someone in her vast network, and ultimately guided them to UC where they'll enjoy their best chance to flourish.
Her DAAP colleagues feel that, if anything, Bresler has become somewhat underappreciated because her years of dedicated service have set a new standard for volunteerism; exceeding most reasonable levels of support is simply "what Patti does." Despite tremendous professional and personal obligations, she has been described as "one of the first people to lend a hand, no matter your need, without you ever having to ask." A vibrant "personal connector," her service to her school emanates from the great pride she feels in her educational experience and her desire to ensure others get the same chance to succeed.
Marian A. Spencer Mosaic Award
The Marian A. Spencer Mosaic Award is presented to an alumnus/alumna whose leadership enhances our shared community through cultivating collaboration, fostering inclusiveness, championing the cause of the underrepresented, and promoting equity and opportunity for all.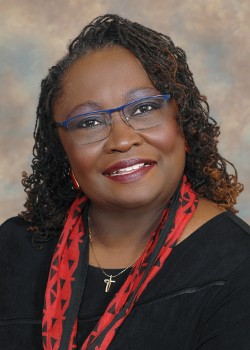 Karen Bankston, PhD
Nur '05
Karen Bankston's title with UC's College of Nursing — Associate Dean of Clinical Practice, Partnership and Community Engagement — suggests a range of responsibilities, expertise and influence. Yet it cannot convey the sheer breadth and depth of her impact on countless lives; her lifelong devotion to her profession; and her tremendous commitment and continuous action toward greater equity, inclusion, and the enrichment of opportunities for all.
Bankston's reputation for invoking positive change dates to her early professional life when she enhanced primary care delivery, discharge planning and quality assurance in a large regional health care system in Youngstown, Ohio. In the process, she worked to decrease health disparities within the community, improve infant mortality rates, and create support networks for African American nurses and nursing students while undertaking policy work with the American Nurses Association and Ohio Nurses Association.
She then embarked on a teaching and administrative career at UC in the College of Nursing and The University Hospital (now UC Medical Center) where she became vice president and COO. She was later senior vice president for external affairs with the Health Alliance of Greater Cincinnati, senior vice president and CEO with Drake Center, and led her own consulting service. She has been with the College of Nursing in her current role since 2012. Everywhere she's been, she has become revered for improving organizational culture and inclusivity while serving as a caring mentor.
At UC, areas of Bankston's focus have included enhancing the diversity of the health care workforce pipeline, improving the acceptance and retention of underrepresented individuals interested in health care careers, and partnering with area high schools to positively affect students' educational outcomes. She is also a national leader in promoting holistic admissions review processes to recognize leadership potential, a largely overlooked aspect of underrepresented students' entries into higher education. She has received numerous honors at UC, including the Kautz Alumni Award, UC Diversity Champion Award, Marie Brown AHC Leadership Award, and Linda Bates Parker Leadership Award.
A respected community leader, Bankston has chaired the Diverse by Design Steering Committee within the Cincinnati USA Regional Chamber's Agenda 360, and played a major role in changing legislation for distribution of medication for the charitable pharmacy established by St. Vincent DePaul, of which she is a member of its founding board. She was the founding chair of the Center for Closing the Health Gap, which she helped form and has since impacted more than 83,000 individuals. Currently, she is on the boards of the United Way of Greater Cincinnati and the Urban League of Southwest Ohio, and she chairs the region's Success by Six Council.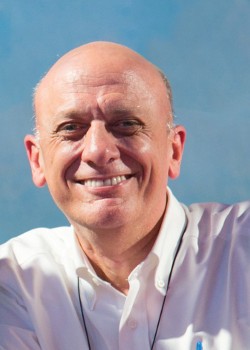 Thomas A. Viola
CCM '76
Blessed with a velvety baritone voice, Tom Viola had Broadway dreams like many of his 1970s CCM peers did. After graduation he went to New York to start a career, yet saw his life take a different course as he devoted himself to a humanitarian cause far greater than his own original ambitions.
After sharing the pain and hopelessness among a close-knit performing arts community trying to cope with the harsh reality of HIV/AIDS, Viola became the founding administrative director of Equity Fights AIDS in 1988, and thereafter enabled the group's merger with Broadway Cares in 1992. As the executive director of Broadway Cares/Equity Fights AIDS (BC/EFA) since 1997, he guided the organization through its difficult early years when the theater community was often a lone bastion of support — too many of its members dying with no answers and no outside assistance.
Under his strong and principled direction, BC/EFA has raised over $250 million for critically needed services for people living with HIV/AIDS and other critical health issues nationwide. BC/EFA awards grants to over 500 AIDS and family service organizations throughout the U.S. — health clinics, food pantries and meal programs, case management and emergency financial assistance, counseling services, and more. It is one of the nation's largest funders of front-line, grassroots, social service providers. Yet simple metrics can't calculate the army of volunteers and the countless lives enriched by BC/EFA's support, including all those that will be touched in the years to come.
BC/EFA has become a model non-profit charity, always producing high-level events and exercising admirable fiscal responsibility. Viola's watchword is "quality"; he has uncanny instincts about what the organization does best, and he sees to it that its many projects are meticulously, tastefully and joyfully executed.
In the theater industry and beyond, "Tom Viola" and "service" are synonymous. Embodying BC/EFA's slogan — "What we do together makes a difference" — he has worked tirelessly to spread this message by word and deed. For more than a quarter century, he has been seen as a real hero to members of the theatrical community and beyond. Called a beacon of benevolent activism, Viola's legacy is one of inclusiveness, compassion, generosity and community.
Jeffrey Hurwitz Young Alumni Outstanding Achievement Award
This award is given to a UC graduate on the basis of significant professional achievement in his or her field of endeavor, and continued service and involvement with the university and community. This award is in honor and memory of Jeffrey Hurwitz, BBA '72, MBA '73, former president of the UC Alumni Association's Board of Governors.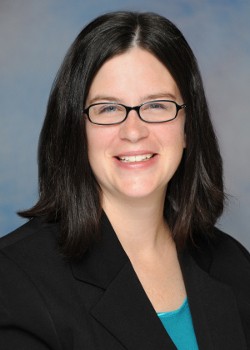 Julienne R. Cromwell
CEAS '01, '03
Julienne Cromwell has packed more high-profile engineering projects into a still young career than most people in her field could hope to achieve in a lifetime. Along the way, she has also been a tireless and selfless volunteer in service to her university and her profession as well as those less fortunate.
Cromwell earned bachelor's and master's degrees in civil engineering in the early 2000s, then began a career as a design engineer. Recent years have been spent on the team of engineers at THP Limited, Inc. in Cincinnati, one of the region's premier design firms. Her expertise became evident with each new project entrusted to her. Cromwell was the design engineer for a wide array of important projects, including The Ascent at Roebling's Bridge condominium high-rise in Covington, Great American Ball Park, Northern Kentucky University's BB&T Arena, Cincinnati Children's Hospital Medical Center Location S and T Research Towers, the Wright-Patterson Air Force Base Human Performance Wing in Dayton, the Cincinnati Convention Center expansion, and UC's Varsity Village tennis complex. Her accomplishments and expertise were so compelling that she was named a Principal at THP in less than eight years. In the process, she has rendered an unusual degree of service to the engineering field through her leadership with several professional organizations and her work with the City of Cincinnati's Board of Building Appeals.
Her professional work has fully integrated with her devotion to help others. Cromwell has served as a professional mentor for Engineers Without Borders' student group of UC, assisting members in the design and detailing for a new school building in Tanzania. She currently serves as the practitioner advisor to the UC student chapter of the American Society of Civil Engineers and serves on the Alumni Advisory Board for the department of Civil and Architectural Engineering and Construction Management. Cromwell has actively participated in several National Science Foundation-funded projects, organizing lectures, leading student groups and preparing initial grant proposals. She is an award-winning adjunct professor at UC teaching courses in reinforced concrete design. Her love for mentoring and developing students for careers in structural engineering is known throughout her college.