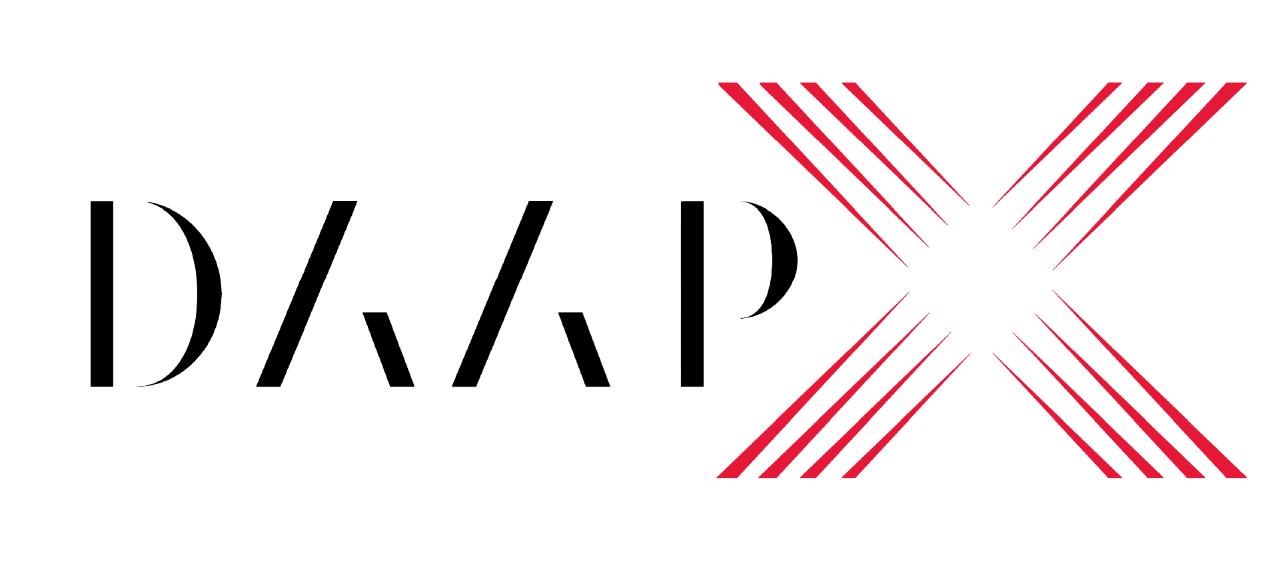 Registration for DAAPX is closed, however, interested alumni and friends are welcome to walk-in to 5401 or to watch the program online.
The Showcase
DAAPX is a celebration of alumni accomplishments and a showcase of diverse projects and experiences across all majors and degrees. Quick 10-minute presentations will take place throughout the day both in-person and online so can you watch LIVE from anywhere in the world!
The Topic: Experiential Design

As designers and artists, we recognize that all our work is created for and influences or impacts people. Back in the fall, we accepted proposals for presentations to tell a story about a project that was designed with the experience for an individual or group of people in mind – Public art installation? Product design? Environmental graphics? We wanted 'em all! This is your opportunity to see select presentations that are centered on the human experience.
Presentation Descriptions
Lisa Bambach, BSDE '12 | Building Memories through Visceral Narrative
Experiential design has evolved from its roots as the communicator of story in physical space into the originator of memories. As organizations seek to stand out by striking an emotional chord with audiences, the boundaries of not only art and design continue to be blurred, but also those between architecture and technology. Whether the goal is to establish a sense of pride in one's community, to entice employees back into the office, or to impress audiences through immersive environments, experiential design solutions challenge perceptions of the expected by finding the balance between communication and expression.
This evolution of the field towards the visceral challenges designers to continuously push the limits of one's own personal experience. While my own journey into experiential design has been circuitous, I have found it appropriate for a profession unconfined by field nor medium. In this presentation, I will discuss notable projects that have redefined the lens through which I approach the practice of design and my role as I have come to understand it as a curator of memorable experiences.
Tim Hamons, BSDE '89 | Visual Storytelling to Spark Social Innovation
How do you overcome system resistance to change in a competitive business environment? One way is to tell a story. Live drawing of simple models and diagrams during a presentation creates an emotional connection to a proposed solution.
In this session, I will present a case study of how we used interactive visual storytelling together with a powerful framework for systemic change to help influence positive change in business practices in Indonesia. We will also explore a framework for understanding how to use visual storytelling to clarify your thinking, create shared understanding, and support collaborative decision-making.
Wade Johnston, BUP '13 | Building the CROWN
To consider bicycling for transportation, most people need safe infrastructure that connects them to where they need to go. Tri-State Trails has been working since 2015 to build the CROWN – a 34-mile multi-use path that will form a connected trail loop around Cincinnati – and in 2024, the Wasson Way trail will connect to Uptown. Learn how plans to construct a world class bikeway network around UC will ensure #NextLivesHere is reflected in progressive transportation options to and around campus.
Mark Koch and Julie Koch-Beinke, BDSE '82 | Uniting Design and Architecture for Social Impact
Through strategic positioning and design, we helped to turn a monetary prize, that was annually given to help support design and architecture practices that create projects with Social Impact - into a research resource for designers and architects globally to learn from winning projects - and then expand it into a community to unite designers, planners, architects and activists focused on design for the common good.
In this talk, we will briefly outline the strategy, the storytelling, the design, programming, development and the content presentation and curation process that helped expand a vision to a global community. We'll discuss the challenges and joys of integrating educators and educational institutions, non-profits, NGO's, designers, architects, planners, and the communities they serve, in one virtual space.
Our goal will be to ignite interest in a more inclusive practice of the skills we were exposed to at DAAP to enhance the human experience.
Matt Lewis, BDSE '09 | Digital Design for the Future of Flight
Imagine you are an aircraft operator and you are responsible for the passengers of a commercial airline. Now imagine you only have an hour to decide if an engine is safe to keep on the aircraft or if you have an extra engine available to allow the passengers get home to their families safely and on time. This aircraft you are monitoring is also on the other side of the world. Digital tools expand human capabilities at global scale - but it's a fine balance between safety, efficiency, and the human experience. 

Adoria Maxberry, MA '20 | Time to Inspire, Create and Grow
Ever get so bamboozled by an idea that no matter where you go it seems to haunt you? Well I have! In a blink of an eye, I'll tell you how color consumed my world and took a young graduate climbing the corporate ladder in to a world of entrepreneurship and education. With what seemed like a normal request from a six year old, my world changed, whether I knew it or not. Let's go on a path of exploring what happens when you say "YES!" to being planted in a garden of possibilities. Allow me to tell you the story of how to be "Most OutGROWing." It's time to inspire, create and grow together!
Sydney Moeller, BSID '11 | Brand, Story & the Immersive Workplace Experience
Few industries are transforming as quickly as that of Workplace Design. Accelerated as a result recent world events, the office of today must be more agile and satisfy more user needs than ever before. EA Sports leveraged the moment to transform their Orlando Headquarters into an experience as immersive as their games. Join us as we bring the story to life, building on EA's brand equity and exploring history, culture, and the future of the flexible office.
Mark Ryan, BARC '87 | trueNorth_a public art intervention
Rooted in the long history of this context, a campfire on the edge of the water was inspired by the Native American legend of 'Great Spirit'. Passed down through generations, it tells of Great Spirit assigning guardianship of earth, wind, fire and water, and giving each a direction – TO NORTH, GREAT SPRIT GAVE FIRE.
Using the geometric center of Tempe Center for the Arts, a line was struck on the true north alignment. Emanating outward, the axis extends across the water, through Papago Buttes, Camelback Mountain and beyond, connecting to a larger context. Aligning the two flames, through a strategically placed aperture, connects the individual to this greater perspective.
Early site walks revealed some unexpected magic – the ground sparkled. A photograph of this phenomenon, a site-specific constellation, determined the placement of 120 individually cast resin rods. Suspended within each is some aspect of the project; sketches, correspondence, screen plays, sheet music, poetry or natural objects collected from the site.
The project endeavors to make a meaningful connection with this unique context, honoring those that have come before, the power of direction, the North Star, the mesmerizing beauty of a simple flame and the timeless enchantment of the night sky.
Joe Stitzlein, BSDE '95 & Leslie Stitzlein, BSDE '92 | Brand and Typeface Systems
We've worked with Steve Jobs to define Apple's photography and packaging standards, launched Michelle Obama's Let's Move program for healthy schools, designed the Netflix, Lilly and dwell logos, built a global design studio at Google, designed a typeface for billions of Facebook users in thousands of languages, launched the world's first crypto bank and the first fusion energy generator, and created campaigns that made the Nike Free the world's best-selling shoe, period.
In 2016 we founded Stitzlein Studio, a brand identity, typeface design and digital experience practice based in the San Francisco Bay area.
This presentation covers the journey from DAAP student to executive creative director.
Heather Wilson, BS '05 | Design as a Civil Right – Centers for Architecture and the AIA
Heather Wilson, DAAP Urban Studies Alum, is the only AIA (American Institute of Architects) Executive to have worked in three regions, three chapters, and worked on a Center for Architecture / Center for Design in each (North Carolina, Utah, and Oregon.) As a result, she has a unique understanding of architectural pedagogy and practice from sea to shining sea and what it takes to support the prosperity of the profession while simultaneously raising the profession's public image. The guiding principle: Design and a Civil Right.
We invite you to enjoy last year's DAAPX presentations. Ten notable DAAP alumni spoke on a range of compelling topics from gender expression to improving the criminal justice system and environmental sustainability. Each talk can be viewed in its entirety within the "2022 Presenters" tab below.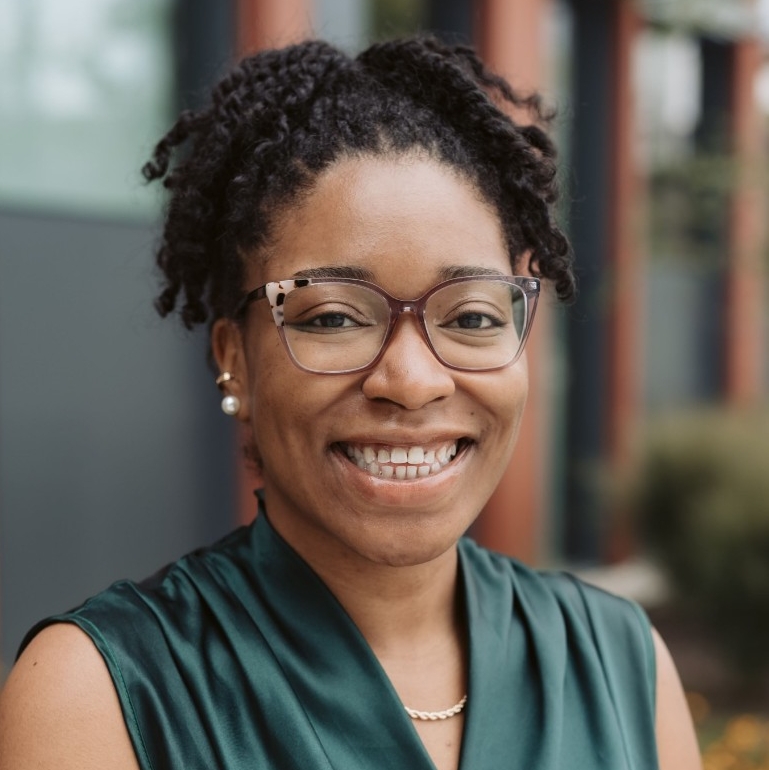 Ellen Stedtefeld
Program Director of Alumni & Donor Experience, College-Conservatory of Music and College of Design, Architecture, Art, and Planning