UC College of Medicine: The Rounds Newsletter
Updates from UC's College of Medicine - 'The Rounds' Alumni Newsletter
College of Medicine faculty dominate latest Top Docs/Best Docs ranking lists
Hundreds of College of Medicine faculty, graduates and past residents and fellows are included on the lists of two recent magazine surveys. Cincinnati Magazine's 2021 "Top Doctors" survey includes 568 physicians, or 63% of the 908 physicians listed, who have a connection with the College of Medicine:
23% (205) graduated from the College of Medicine (the Class of 2009 had the most on the list with 14)
 27% (243) completed their residency or fellowship at UC
38% (345) currently hold a College of Medicine faculty appointment
The January 2021 issue also features Suruchi Thakore, MD, assistant professor in the Department of Obstetrics and Gynecology, on the cover of the magazine and in a story about the UC Health Third Party Reproduction Program. Marc Rotherburg, MD, professor in the Department of Pediatrics, also is featured in an article about he Cincinnati Center for Eosinophilic Disorders at Cincinnati Children's.
The Winter 2020/2021 edition of Cincy Magazine includes a list of the "Cincy Best Docs 2020" from the region as selected by the magazine's readers. Among the physicians listed, 67, or 81%, of the 83 category
winners have a connection with the College of Medicine:
25% (21) graduated from the College of Medicine (the Class of 2004 had the most on the list with three)
40% (33) completed their residency or fellowship at UC
64% (53) currently hold a College of Medicine faculty appointment
This was the first year the magazine asked readers to select the Cincy Best Docs in online voting. In addition to the winner in each category, two other finalists were named in the voting (except for the Pediatric Hematology category where only one finalist was voted). Among these 165 finalists were 102 College of Medicine faculty.
UC College of Medicine Distinguished Alumni Nomination
Dear UC MD Alumni,
Each year the UC Alumni Association and the College of Medicine recognize distinguished alumni who have demonstrated exceptional leadership.
The Distinguished Alumni Award recognizes MD graduates of the University of Cincinnati College of Medicine for achievements in the areas of basic research, education, clinical care, health service administration, and public and/or civic duties.
Please consider nominating remarkable UC College of Medicine alumni you know. Nominations for the 2021 alumni awards are currently being accepted for MD graduates from years ending in 1 and 6 who are celebrating Reunion. (See below for an important note about Reunion.)
The submission deadline for nominations is March 15, 2021.
Thank you for your willingness to honor a fellow Bearcat.
Sincerely,
Heather Dlugosz, MD '05
Chair, UC College of Medicine
Distinguished Alumni Nomination Committee
Due to COVID-inducted challenges, the classes ending in 0, 1, 5, and 6 will join together for Reunion, tentatively scheduled for Fall 2021, where we will honor the CoM Distinguished Alumni from these class years. Stay tuned for more information on the upcoming Reunion.
Questions? Email Mary Jo Philhower, Assistant Director of Alumni Relations, or call 513-558-6316.
IvaDean Scholarship Benefit Concert going virtual in 2021
As with all events during the pandemic, the upcoming 17th Annual IvaDean Scholarship Benefit Concert also will be conducted virtually this year.
Each act participating this year will be recorded and compiled into an online concert, which will be posted on the university's Facebook page on Feb. 27. It will be the first time the concert, which was first held March 11, 2005, was not a live performance. Typically held in Kresge Auditorium, it features musical performances by students, faculty and alumni. The concert benefits the IvaDean Medical Student Scholarship Fund, which this year provided scholarships to 31 medical students.
"We've got a stellar team of medical students that meticulously plans the stage lighting, equipment setup and sound management every year, and we're ready to tackle the challenges posed by hosting the concert virtually," says Billy Covert, a fourth-year medical student. "We're excited to work with our performers to produce a show that will be fun to watch, with hopes that even more people will be able to tune in from home than we can typically cram into the Kresge Auditorium."
Covert has helped with the last three IvaDean Benefit Concerts and has performed in the college's student-run talent show but hopes to perform in this year's IvaDean Benefit Concert. As the senior member of the student-led production team, he will be coordinating the technical production of the event. Assisting in the production will be Carl Fichtenbaum, MD, professor in the Department of Internal Medicine, Division of Infectious Diseases. Fichtenbaum has performed in past concerts and has led the production of nine online "Quarantunes: A Concert Series for UC and UC Health." Other medical students working on the concert are third-year medical students Julie Lavey and Julie Reeves and second-year medical student Riley Ferguson.
The College of Medicine Class of 2003 used its class gift to start the IvaDean Medical Student Scholarship fund as a tribute to IvaDean Lair-Adolph for her profound influence on medical students as an advisor, advocate and confidante. Lair-Adolph has been a college staff member since 1957, served for decades as registrar of the college and is now associate dean emerita.
"It's important to us to help the next generation of learners in whatever way we can," Covert says. "Helping put on this concert every year is just one way we can both contribute to the education of those future students, as well as show our appreciation to someone special who has helped us along the path of our own education."
"Personally, I can't count the number of times I popped into IvaDean's office between lectures for a quick glucose hit, and every alumni we have perform at the concert has a similar story about his or her affinity for IvaDean's snack options. This is just our way of paying her back," he added.
Covert says they are actively seeking performers for this year's concert. Anyone interested in participating should email him by Jan. 31.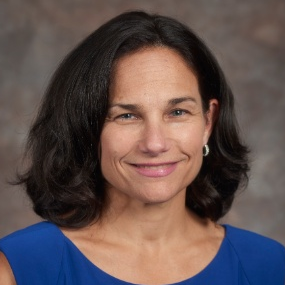 Briana Coggins, A&S '10, '20
Director of Alumni & Donor Experience, College of Medicine